If we need to come pick up your computer(s), we will need a filled in work order sheet.
Please note: Where it asks if you want your DATA backed up, that means email, documents, photos. These are data that reside on your hard drive, stuff that you do NOT want to lose. We can also do an image backup which backs up the entire hard drive.
To save time, please click the PRINT WORK ORDER button to print a work order sheet, then fill it out and give it to us with your computer.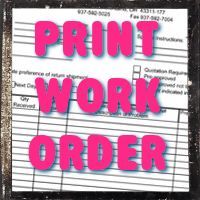 You can also click below to see the status of your computer once we have entered it into our database, while we are working on it.